discography
TIME RIVER / MIHO HAZAMA
company
cd no
SSC 1420
release date
October 16, 2015
"I really love Miho's writing. I was a big fan of her first recording. It was a great debut, and she's now created another lovely collection of works." --- Maria Schneider
Leading own 13-piece orchestra "m_unit", Miho Hazama expresses the most cutting-edge sound of today's contemporary jazz orchestra.
All Miho's original compositions, except one cover: alternative rock band, A Perfect Circle's "Magdalena".
Gil Goldstein and Joshua Redman appears on one tune each.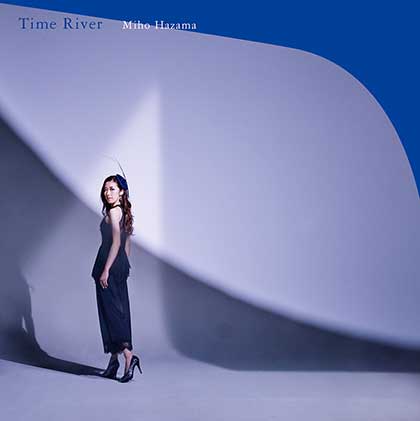 personnel
m_unit:

Miho Hazama (conducting, piano on tracks 6 & 7)
Gil Goldstein (accordion) on track 3
Joshua Redman (soprano sax, tenor sax) on track 8
Cam Collins (alto sax, clarinet) except tracks 6 & 7
Ryoji Ihara (tenor sax, soprano sax, flute) except tracks 6 & 7
Andrew Gutauskas (baritone sax, bass clarinet) except tracks 6 & 7
Matthew Jodrell (trumpet, flugelhorn) except tracks 6 & 7
Adam Unsworth (French horn) except tracks 6 & 7
Joyce Hammann (violin)
Sara Caswell (violin)
Lois Martin (viola)
Meaghan Burke (cello)
James Shipp (vibraphone) except tracks 6 & 7
Sam Harris (piano) on tracks 2, 5 & 8
Alex Brown (piano) on tracks 1, 3, 4 & 9
Sam Anning (bass) except tracks 6 & 7
Jake Goldbas (drums)
Joshua Redman appears courtesy of Nonesuch Records.
tunes
The Urban Legend
Cityscape
Under the Same Moon
Dizzy Dizzy Wildflower
Alternate universe, was that real?
Introduction
Fugue
Time River
Magdalena (song by A Perfect Circle)
"Magdalena" composed by Billy Howerdel and Maynard Keenan is published by Harry Merkin Music and Transfixed Music, ASCAP.
All songs composed by Miho Hazama, otherwise indicated, are published by JamRice Music Publishing Inc., JASRAC.
Directed by Jim McNeely and Gil Goldstein
Produced by Miho Hazama
Product Manager: Hiroaki G Muramatsu for JamRice Inc.
A&R: Francois Zalacain for Sunnyside Records

Recorded on April 1 & 2, 2015 at Avatar Studios, NYC
Recording, Editing & Mixing Engineer: Brian Montgomery
Assistant Engineers at Avatar: Tyler Hartman, Thom Beemer
Mastered by Yuka Koizumi at Orange, Tokyo

Art Direction: Tadashi Kitagawa
Photography: SHITOMICHI (vale.)
Stylist: Kouichi Fujisaki
Hair & Make up: Mutsumi Shibahara
Inner Sleeve Photos: Takehiko Tokiwa
Inner Sleeve Images: James Francis
Liner Notes: Miho Hazama
English Translation: Takako Sato

Special Thanks to: Gil, Josh, Jim, Jake, Sam A, Alex, Sam H, James, Cam, Ryoji, Andy, Matt, Adam, Joyce, Sara, Lois, Meaghan, Brian, Koizumi-san for their generous creativity and inspiration.
Tino and the great crew at Avatar Studios, Tak, Simon, Ryan Truesdell, Aine, James, Kitagawa-san and the amazing photo shoot team, Saito-san, Yosuke Yamashita and G for their big support.

Everyone who encouraged me to keep challenging; dad, mom and my precious family for their love.
discography

Long-awaited debut album by Miho Hazama working in multi musical fields.
Commemorating her graduation from the master course at the Manhattan School of Music in Jazz Composition.
The album fully appeals her talent as an upcoming jazz composer/arranger.
All the songs are her original compositions, except one tune: Lady Gaga's "Paparazzi".
She also plays the piano by herself on two songs including the title tune.